6 reasons your school should have its own ClickView library
3 mins read
ClickView has supported thousands of schools throughout 2020, as educators were thrust into compulsory – and unfamiliar – remote teaching and learning. Despite initial wariness, many teachers from primary, secondary and tertiary sectors have emerged from 'lockdown' harnessing their new superpowers as video learning experts.
For this reason, more and more schools have decided to curate a custom ClickView library for their education community.
Here are 6 reasons why you should use ClickView Library Editor to do the same.
You can also watch the webinar recording on why schools curate their own custom video library.
1. Teacher-created videos need a good home
Do your teachers have valuable video content in multiple cloud storage locations, on hard drives, mobile phones, public video-streaming platforms or clogging up valuable server space? ClickView is the ideal place to store and lock down original video content safely and securely.
For starters, storing original video in a centralised location facilitates easy access. Staff members can access video content created by their colleagues in different year level teams, learning areas and campuses, fostering collegiality and alignment across a school. Access to this content can be locked down only to members of your school or institution, so there's no chance of your History lesson or cricket demonstration going viral.
2. Encourage professional learning and resource sharing
You've spent time in front of the camera and diligently editing your recorded video lessons. Rather than tuck them away in your Workspace, let your colleagues be inspired by your work (they might learn a thing or two about creating video!), invite feedback on your professional practice or encourage others to share your lessons with their own students to provide multiple exposures to a topic. Your school library is a great place to share this carefully created content with your colleagues.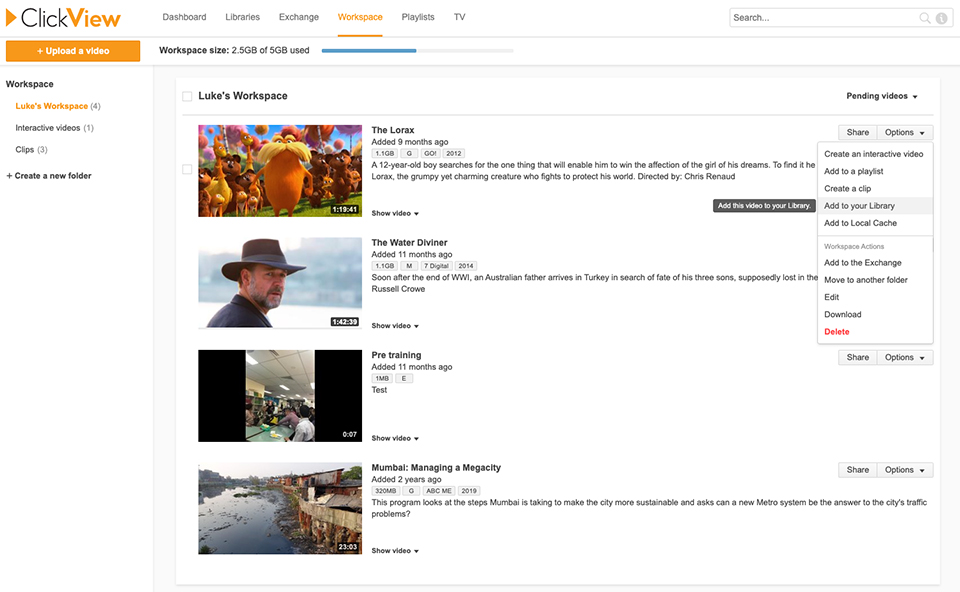 3. Content is easy for students to find
Using ClickView as your video storage solution makes it so easy for students to find what they need. Whenever a video is created or assigned by a subject teacher, students know they can search for it immediately on ClickView. The ClickView Exchange is off-limits to students. However, you can add Exchange film and TV titles directly to your school library, so students can quickly find them.
4. Curate your library to suit your school's needs
Library Editor gives you the power to create and curate a folder structure that makes sense for your school. Primary schools could organise their video content into folders for different inquiry topics, while secondary schools might include a folder for house competition events. International Baccalaureate curriculum and other curricula can all be accommodated with a custom folder structure that works for you.
While you're at it, create a folder for historical archive content, for the after-school STEM club or Enviro-friends, for principal's messages and school tours. From lab demonstrations to talks from guest speakers, school productions to staff vs student debates, you can upload it all to ClickView.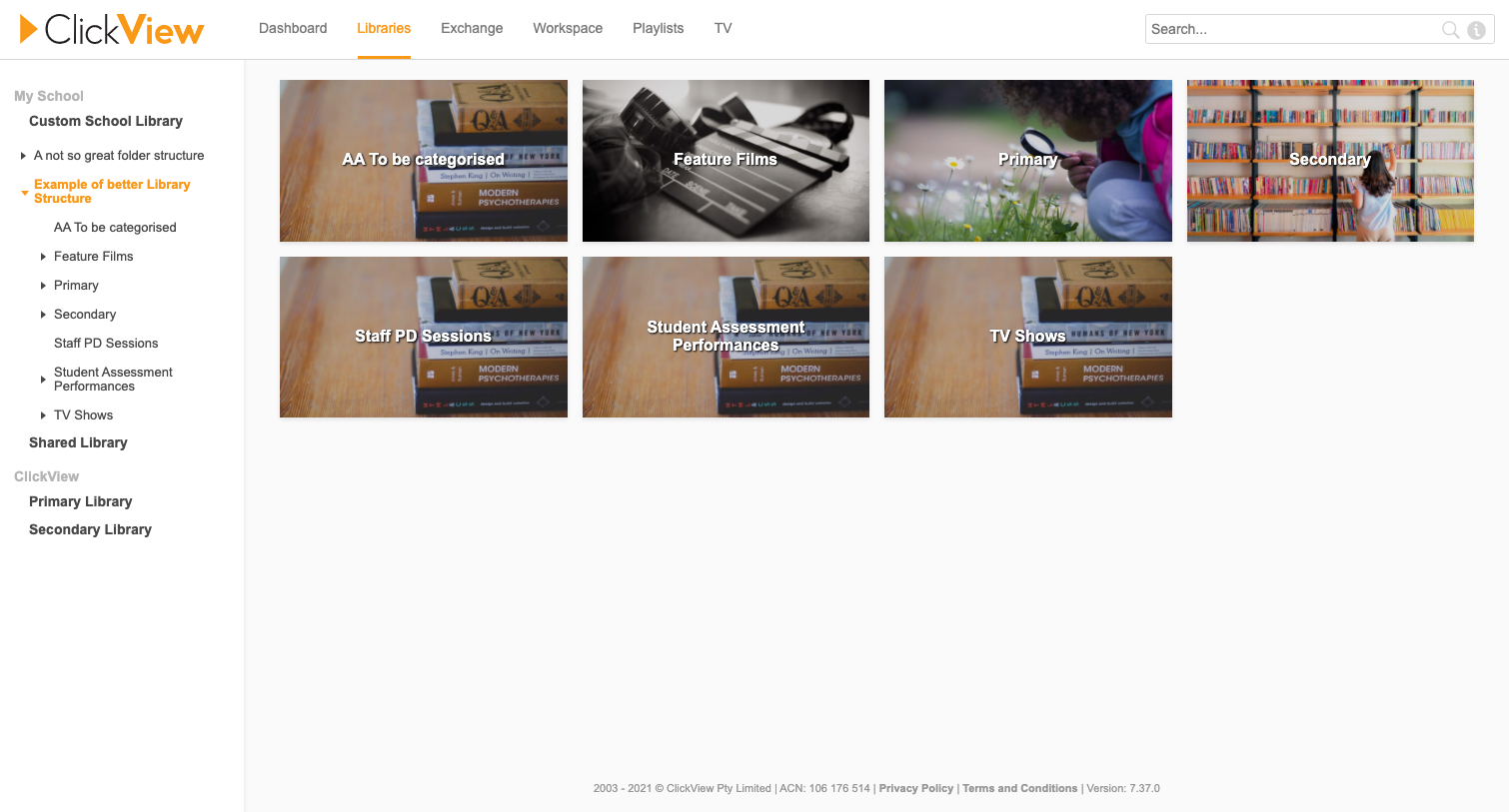 5. Attach your own resources to ClickView videos
Curating your school library folders using ClickView-produced or licensed content helps you keep broader units of work organised. You can also attach any custom-made worksheets to these videos, making them visible to all staff (and students if you choose) at your institution.
Upload vocabulary extenders, scaffolding supports, student exemplar work, lesson plans, unit outlines, links to other resources, PowerPoint presentations, rubrics and more.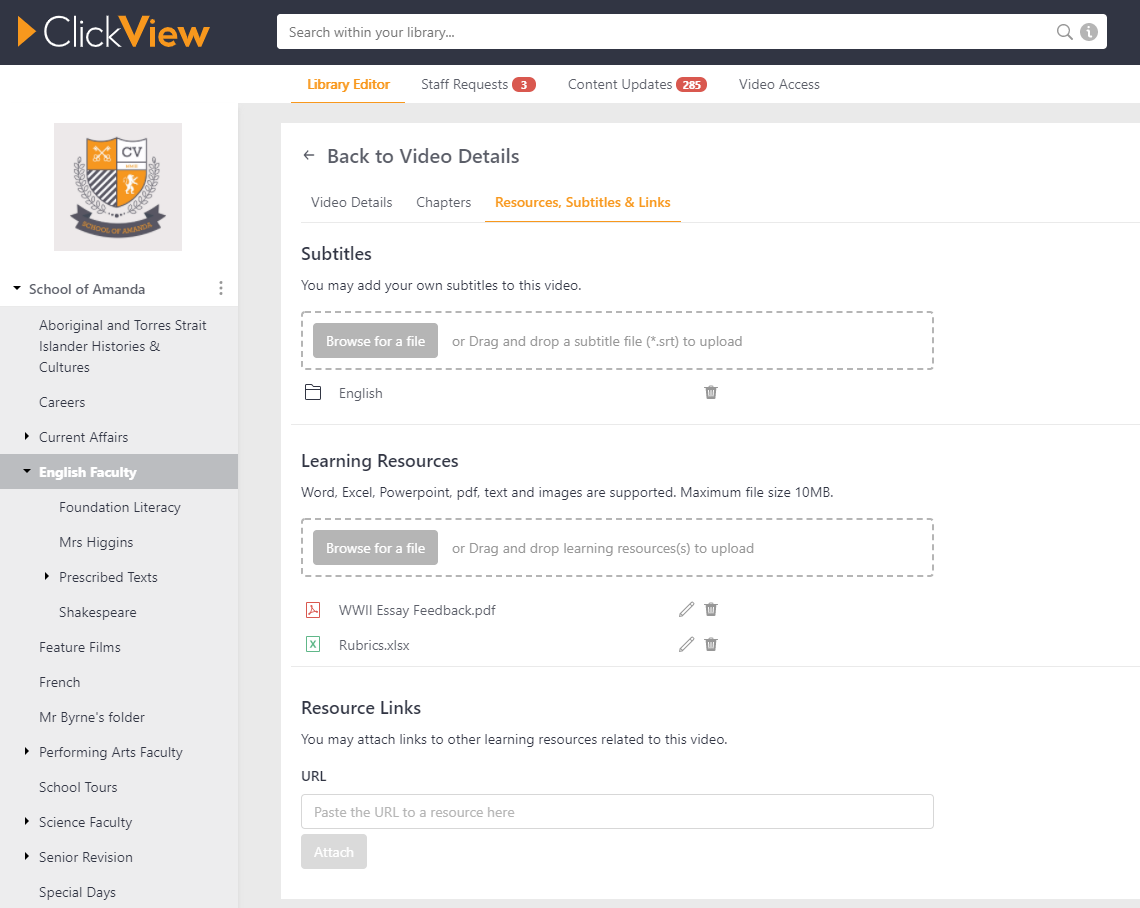 6. Maintain connections with your school community
Any videos you upload to your school's library from your Workspace or Library Editor can be shared publicly with parents, guardians and other members of your school community.
You can take advantage of this feature in so many ways, such as by:
Sharing evidence of a student's performance or improvement
Sending personalised messages home from the principal or teachers
Promoting school events and assemblies.
Over 1,700 schools are already using Library Editor.
Learn more about Library Editor
Are you ready to take control of your video content and join them? Let's make it happen. Speak to your ClickView Advisor today.