A New Reality: 360° Video in the Classroom
3 mins read
OK, I'll be honest – I've always thought that virtual reality was a bit of a fad – thinking 3D TV's here. So when ClickView's CEO, Evan, mentioned the Oculus Rift at the start of 2016, I knew the only way to energise the production team was for us to be exposed to as much VR as possible. While everyone was talking about VR, there weren't many examples of it we could easily get access to. Luckily for us an amazing event called Kaleidoscope, touring only 10 cities in the world, had chosen Melbourne to exhibit dozens of curated 360° videos and CG games and experiences. Having been advised not to use the viewing gear for more than a few minutes, we realised after 5 hours that our eyes were aching and our heads were pounding, but too much still wasn't quite enough….we wanted more.
We emerged back into the real world with a glimpse of the enormous and powerful potential of this technology within education. The ability to bring the world into a classroom via a headset. You can be right in a scene, part of the action, implicit in what's going on. Over the past few hours we'd experienced a journey into space with a weather balloon, we stood with refugees on the shores of the Mediterranean and were absorbed by the brush strokes of a Van Gogh. But my favourite part about VR was then, and still is in hearing the spontaneous gasp when someone puts on a headset for the first time and becomes so instantly immersed in their VR environment, they reach out and try to touch something.
Virtual reality is a big term, and can be separated out into many different strands. For instance, there's 360°/VR/AR and mixed reality. We've decided to concentrate on producing 360° video for the time being as, for students confined within the four walls of a classroom, it presents an unparalleled opportunity to explore the world, to get right into places, to see and experience them in a way that no other classroom-based learning resources can replicate.
For my own production planning, I've categorised some of the experiences that can be produced just with 360° video.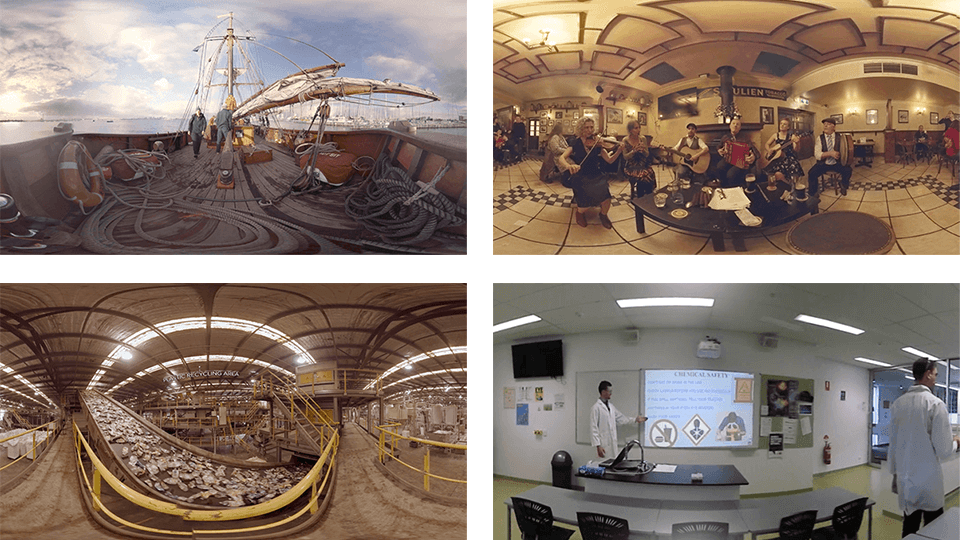 A Virtual Tour: Earlier in the year we finished a project where we tour one of Visy's recycling plants that's closed to the public. The video demonstrates the entire closed loop process of recycling a plastic bottle.
360° Performance: We also recorded a music performance to accompany a Celtic music program where all the instruments covered are seen in action together.
360° Documentary: This is closest to a traditional video with more complexity involved in its production as viewers are led into, and through, the subject material.
360° Immersion: The aim here is to give viewers an experience, a feeling. We created a 360° video of this by putting the camera onto a replica of The Enterprize, which brought the first settlers to Melbourne. You can hear the waves and almost feel the boat moving up and down.
360° Narrative: While we have yet to script a full 360° drama, our latest project takes us into the house of the characters of An Inspector Calls. We meet each character and explore different rooms in their mansion.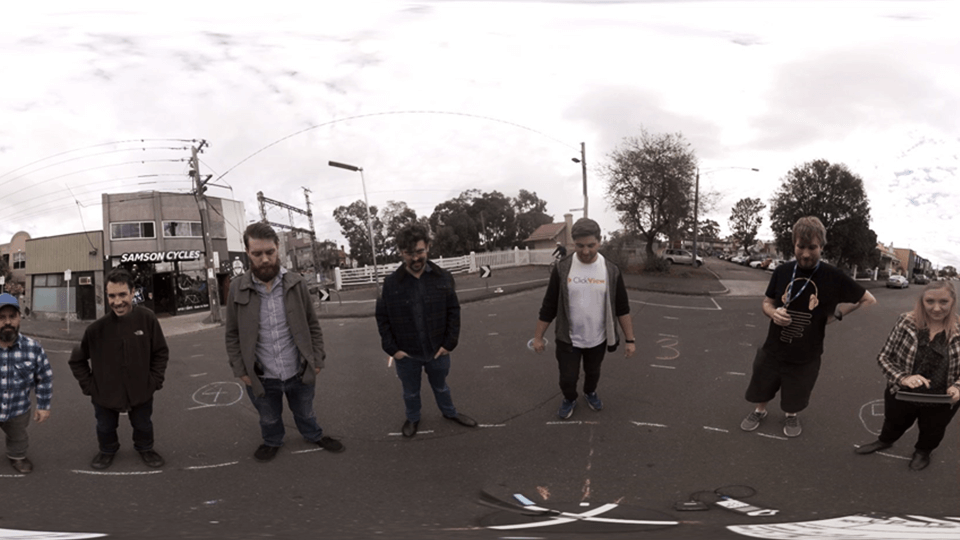 Virtual reality and 360° video is a spectacularly effective way to engage students, and it doesn't have to be costly or time intensive. We recently filmed a teacher in Adelaide producing his first 360° video for his class. He was amazed at how simple it was to do, and even more amazed at how his students responded to the introductory video to the science lab he'd made.
A single phone with a cardboard viewer, available through ClickView, is all it takes. The gasps will be worth it. And of course, for our projects, any topic suggestions or feedback is most welcome. We want to connect students with technology and resources that deliver powerful learning experiences – and unlike 3D TV, give them something that might even change their world.
With a special series of LOTE videos for French, Japanese and German and, a convict experience of Port Arthur right around the corner, we are excited to bring you more revolutionary 360° experiences, the next release in October.