ClickView 6: How to always find the right educational videos
4 mins read
It's important that everything about ClickView is intuitive so teachers can find the most relevant videos for their classes, quickly and easily. At present, there are 1,194 videos in the primary library, 2,096 secondary library videos, and 2,269 videos in the PLUS and VET libraries. An abundance of high-quality educational videos is definitely a ClickView strength. This is why it's so important that we are continually working on the platform, so that it always delivers the right videos to the right teachers.
With so many new video titles, along with additional features in the ClickView platform, our team set out to ensure that teachers can quickly find and identify the right videos for their classes.
This is ClickView 6.

Introducing your personalised dashboard
When you log into ClickView, the first change you'll notice is your own dedicated and personalised dashboard. No two dashboards are alike. Each ClickView user will see content on their dashboard that reflects their school type, the ClickView libraries that your school subscribes to, and personal video viewing interests. On your dashboard, you'll find personal recommendations, popular videos watched at your school, and recently watched videos.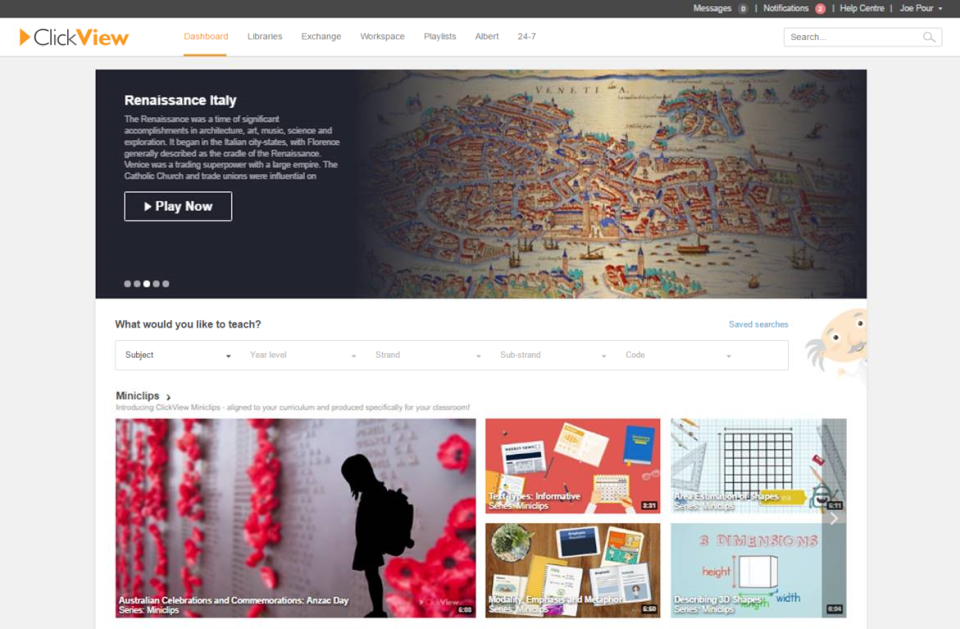 Albert has a new home!
Albert is now positioned at the top of the dashboard so you can dive in and find curriculum-mapped videos faster.

There are also a lot of changes in terms of Albert's search capabilities:
You can now search by just the subject instead of having to specify the year level and strand.
You can filter your searches by keywords.
And it gets better… you can combine the above two and search by keywords and subject together.
Within your search results, click the 'Options' drop-down on any video to see which outcomes a video is mapped to via 'View Curriculum Links'.

Click 'View Curriculum Links' within 'Options'.

The curriculum links will then appear in an overlay window.

By clicking on a Curriculum code, Albert will then display and recommend other videos that are relevant to that outcome.


If you often make the same searches via Albert, you can now save searches for later:

Then the next time you want to make the same search, you can do so directly from your dashboard:

Curriculum Libraries have been given a makeover
When you open your Libraries, each subject will now appear as its own tile, for easier browsing.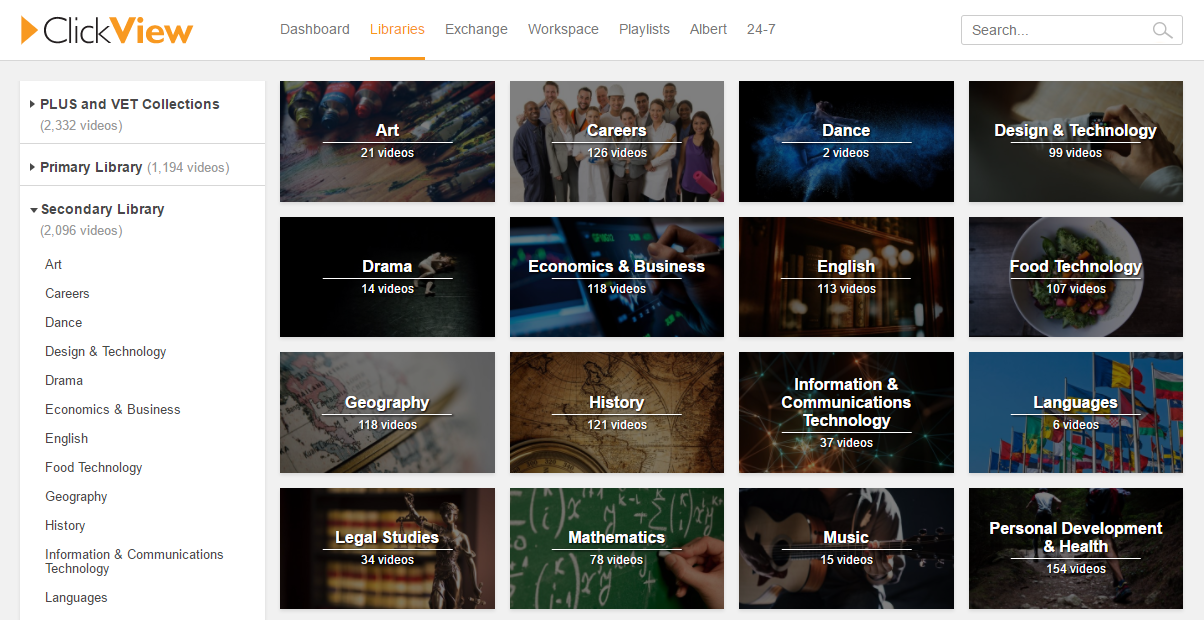 You can now find all videos within any given series by clicking on the series name: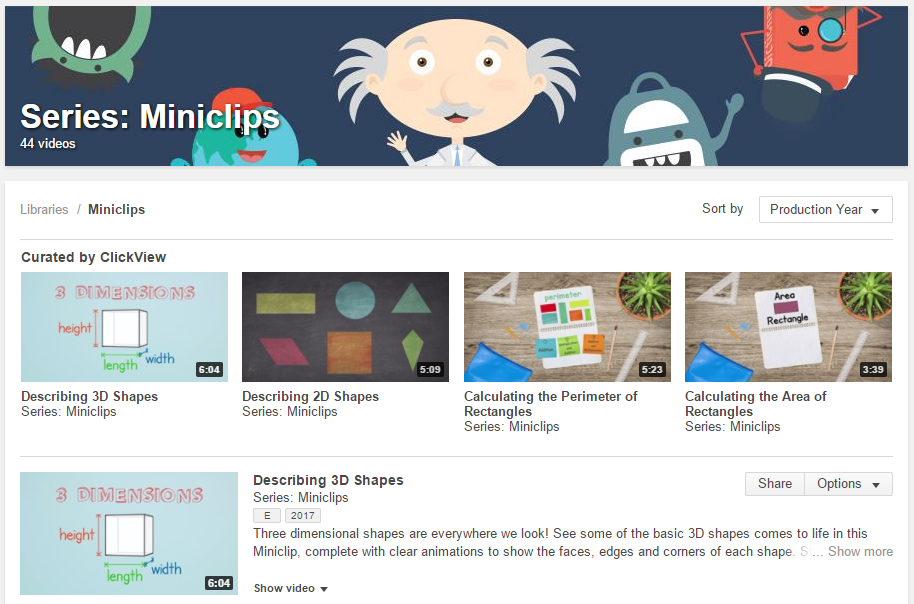 We understand that it's important to find relevant, but also recently produced, videos to ensure you have the best content for your students. Therefore the videos within any subject collection are now displayed by production year, by default.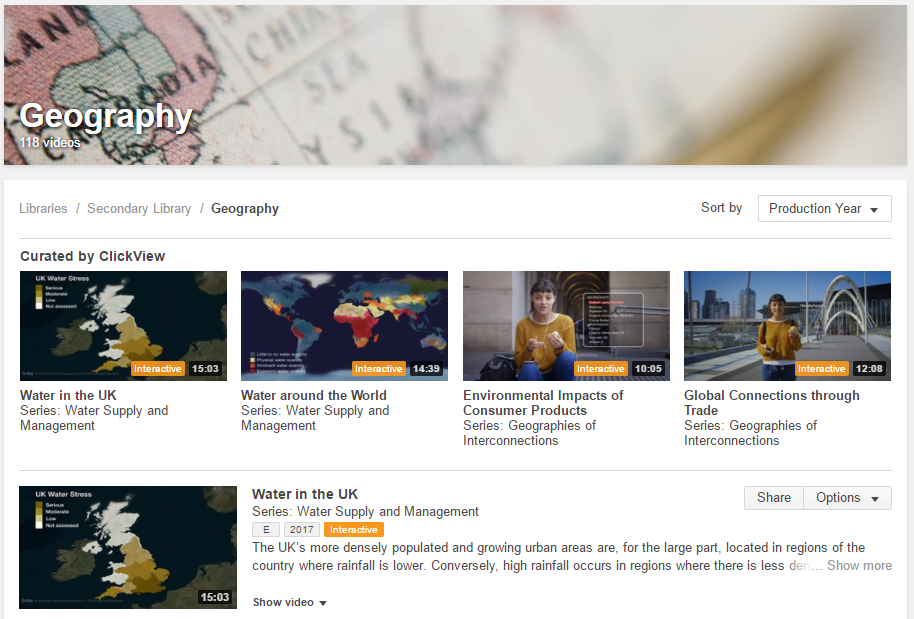 Of course, you have the choice to change this by clicking the 'Sort by' drop-down, and ClickView will remember your preference for later:

Below each Curriculum Library video, you'll now find more information about that particular video along with tabs to locate interactive videos or any saved clips: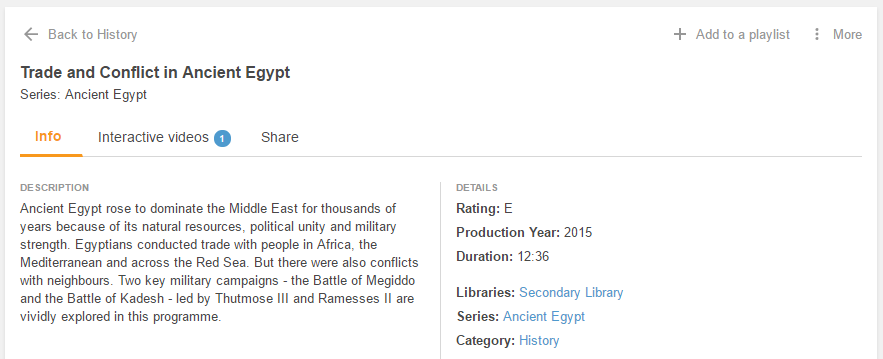 Curriculum Links are available below any video
It's important for any teacher to know how the content they are sharing with their class relates back to the curriculum. You'll no doubt know by now that all of our Curriculum Library videos are mapped to the Australian Curriculum.
Now you can find the exact outcomes that any given ClickView Curriculum Library video is mapped to by clicking 'View Curriculum Links':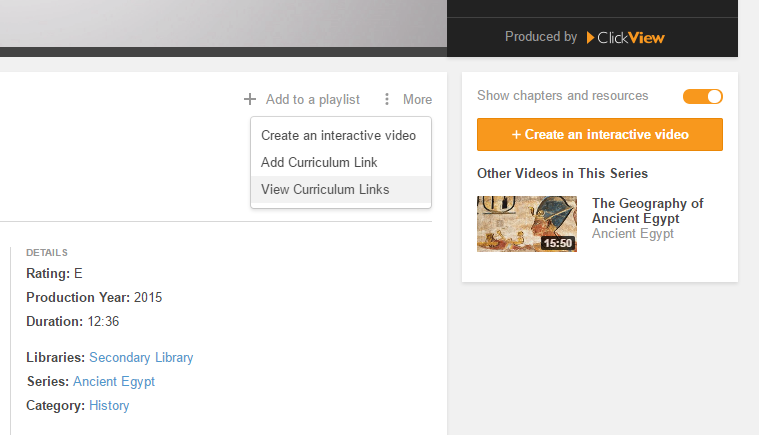 This was a popular request from ClickView users – as always, thank you for your feedback!
Add to your library
There's been a small but important change in naming convention of a Workspace feature, "Push to Publisher". This is now referred to as "Add to your Library". The functionality remains the same: enabling users to push/add the selected video to their ClickView library. It's simply the name that has changed:

New Worksheets: Print interactive video questions
Creating your own interactive videos has been a big hit since last year. Following on from some very constructive ClickView user feedback, we established a strong need for not only an online version of the interactive questions, but also a paper-based copy. There are many times when your pedagogy will require printed worksheets, for example, when a student forgets to bring their own device. There should be no reasons to let technology get in the way of teaching.
You may now print worksheets containing the questions from any interactive video. Click the 'Question List' button to view the questions, then the 'Print as worksheet' button: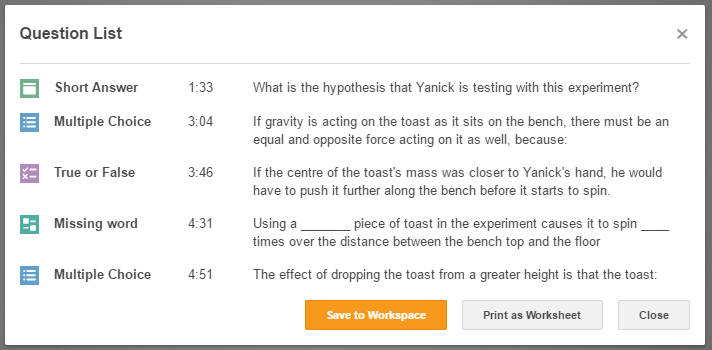 Students can then answer the worksheet questions on paper while watching the video: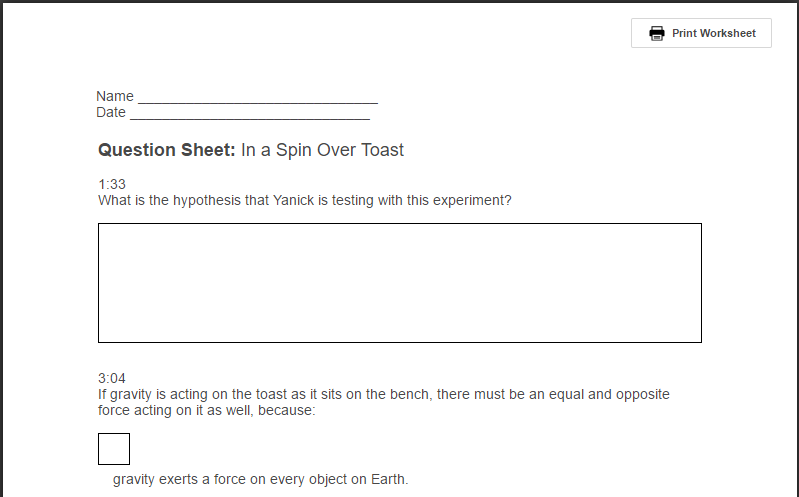 Broadcast videos from your LMS/VLE to your TV
TV plays an important role in the classroom and at times teachers want to engage their class by sharing digital educational videos from their laptop onto the big screen. This is facilitated by devices such as Apple TV or Vivi, which enables teachers to reliably display ClickView videos from their devices onto their classroom TV.
If the ClickView video you want to broadcast onto the classroom television is embedded into an LMS or VLE, you can now do so directly from the player: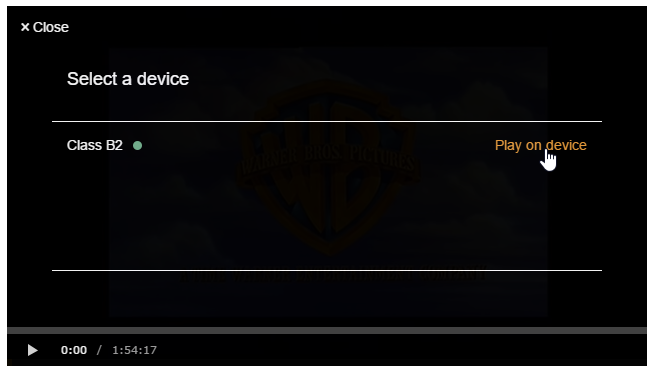 As always, we love to hear your feedback. So please let us know what you think by leaving a comment below – thanks!