Embracing HTTPS at ClickView
2 mins read
We are excited to announce that we shall be enabling and enforcing HTTPS for all ClickView customers in 2019. ClickView has supported HTTPS for a long time, but due to some schools and institutions not being able to access HTTPS, we previously allowed customers to opt out. Implementing HTTPS is a significant milestone as we take every necessary step to ensure that your data is fully encrypted whenever you use ClickView.
What is HTTPS?
In simple terms, HTTPS allows you to create a secure connection between your web browser and ClickView's servers. This means that all your data is encrypted and can only be sent to a verified ClickView server, keeping all your information safe and secure.
Why are we doing this?
ClickView is enforcing HTTPS for all traffic because we care about your staff and students' security and we want to protect them while they use our product. HTTPS also prevents third parties from tracking our users on our site and keeps their data safe as they use ClickView.
Why now?
ClickView has supported HTTPS for a long time now and the majority of customers have happily been using ClickView over HTTPS. However, many schools and institutions had certain restrictions that required them to use ClickView via HTTP and we allowed those customers to opt out. Since then, HTTPS has become more common for schools and institutions and our product has evolved further. The time has come to enforce HTTPS and ensure every customer is using ClickView securely.
What does this mean for me?
Most people won't notice any difference when using ClickView. One thing to check is that you are running Local Cache 2. Local Cache 2 supports HTTPS out of the box, meaning that all your videos will be streamed securely. Local Cache 2 is already available in the latest version of ClickView Publisher 6.2. If you don't have Publisher 6.2, the best thing you can do is download Local Cache 2.
How do I know if I am using HTTPS?
You will see a padlock next to our URL in your browser.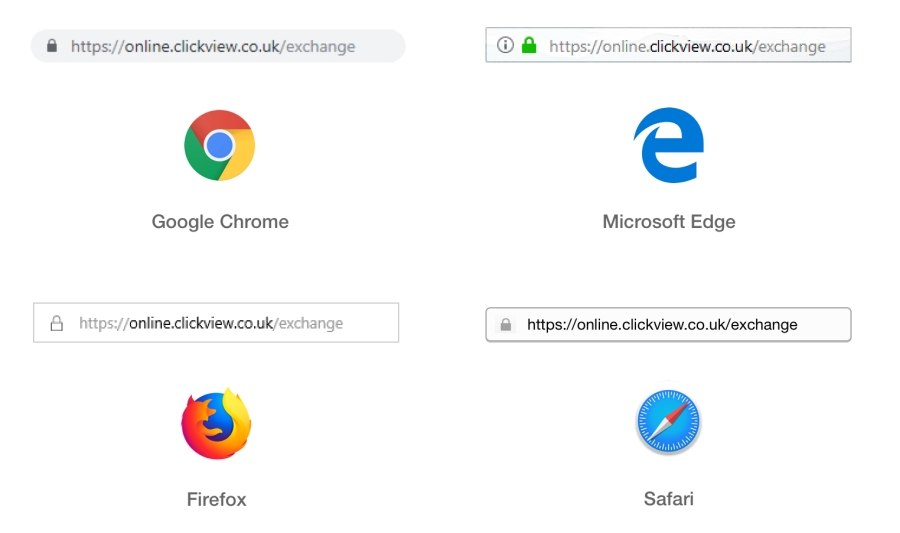 If you need any assistance in downloading Local Cache 2 and moving to HTTPS, please book an appointment with one of our Product Specialists.