Volta part 2 – ClickView's latest product release
3 mins read
In the second part of the Volta release we have worked on a number of improvements across our different products.
These are outlined in more detail below and if you have any questions or feedback, reach out to your schools ClickView Advisor.
This release is named for Alessandro Volta. An Italian physicist, chemist and lay Catholic who was a pioneer of electricity and power and is credited as the inventor of the electric battery and the discoverer of methane. You can read more about him here.
New Product
Improving mobile web browser experience
We've made improvements when accessing the New Product via the web browser on a mobile device, rather than via the app. Videos now respond correctly when rotating between landscape and portrait modes.
The video will turn landscape if you rotate your device on a video you opened full-screen in portrait mode
The video won't exit full-screen when rotating from landscape to portrait if you explicitly entered full-screen with the button in the player
The settings in the video player will also now be visible for longer, as they were previously disappearing too quickly.
Smaller changes
Fixed a bug preventing users from archiving Classrooms
You will no only see the option of choosing your presentation the first time you sign in
Interactives no longer auto play when asking if you wish to continue your previous attempt
We've disabled sharing Playlists and Series' by students, until such time that can give staff more control over this
Library Editor
Styling
Now that Library Editor is available within the New Product, we have given the styling an update reflect the new presentation. Some of the most noticeable changes can be seen below.
Popup styles
Video thumbnail and details presentation
Text is now formatted in sentence rather than title case
Smaller changes
When previewing videos, the menu options are no longer cut off by the frame of the video
You can upload and edit both the folder's thumbnail and the banner without the popup automatically closing after you save one of them.
You'll now only see Online or New Product in the menu, depending on which you're using
"Open in staff view" will redirect to the correct product
Online
Smaller changes
Added a tooltip in Local Cache Saved Files to outline how the expiry works
Students can no longer bypass rating restrictions by using RSS feed links
General
Improved hover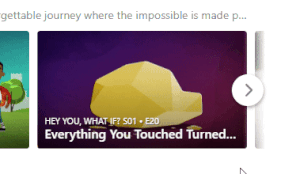 Video thumbnails now recognise if you're wanting to pop out a video, or if you're just passing your mouse over the top of it.
You can now reliably click on the arrow buttons, without them disappearing due to a video unintentionally popping up.
Account Email Verification
When signing in, we've added banners for staff accounts without a verified email.
The first banner will show when you're being asked to enter an email address to verify
The second banner will show when you're being asked to enter the verification code
The final banner will show if you opt to skip verifying your email
These banners will all display contact details for our support team if there are any problems in completing the step.
All accounts will need to be verified from 20th December and there will no longer be the option to skip.
Smaller changes
Verification emails can now be sent to users who are active but without a verified email address
Sending a password reset email to an SSO account is now prevented and a popup now appears
Playlists will now advise when they have reached the limit of 100 videos