Vale Muhammad Ali
3 mins read
Muhammad Ali, one of boxing's titans and a hero worldwide, passed away on Saturday after a long battle with Parkinson's disease.
As a fighter Ali embodied a tenacious and rebellious spirit which, early on, put him offside with many both inside the industry and out. He shocked the boxing world with his unorthodox style and early career takedown of Sonny Liston for the World Heavy Weight Championship and he shocked much of America when he changed his name from Cassius Clay to Muhammad Ali and joined the Nation of Islam to further his fight for civil-rights.
In turn, Ali's brash self-confidence, dynamic mind and irrepressible personality saw him rise above his detractors and rapidly outgrow the boxing ring to become a worldwide icon.
Ali became a staunch opponent of war, famously refusing to enlist when drafted to fight in Vietnam, he was the namesake and spokesperson of the the Muhammad Ali Center for respect, hope and understanding, and was revered for the manner in which he bore his Parkinson's Disease, which would ultimately end his life.
In many ways, though, Ali is beloved not for what he did but for who he was, for the way in which he was so publicly human. Ali eschewed commercial varnish, image management and tightly-controlled messaging and instead was a person who could be as arrogant and narcissistic as he could be humble and vulnerable. As much as he was known for his vaulting confidence and take-no-prisoners approach when in the ring he was also known for his gregariousness and generosity when outside it.
The manner in which Ali lived can help us reflect on our own lives: how we grapple with the challenge of being imperfect humans who are full of contradictions and how, through resilience, courage, humility and humour we can lift those around us. Ali will be remembered not for what he did, but ultimately for how he made people feel and this is a very important lesson.
Below are four videos contributed to the ClickView Exchange by our vibrant community of users to help celebrate the life and times of Muhammad Ali.
If you're already a ClickView customer you can access these videos as well as over 20,000 more through the ClickView Exchange, copy them to your personal workspace and push them in to your school's ClickView library. Otherwise, you can request a free trial today.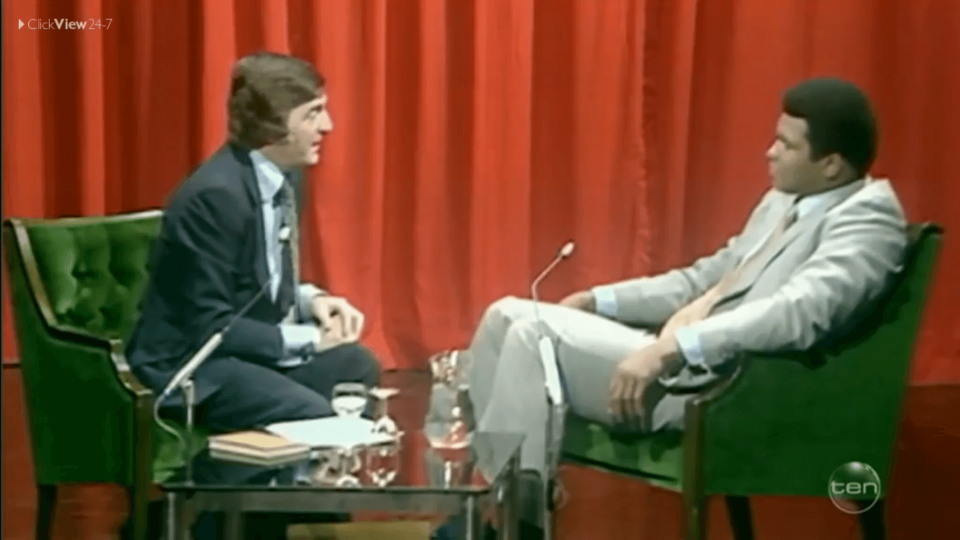 Muhammad Ali: The Parkinson Interviews
Contributed to the ClickView Exchange by Rupert D, ClickView
In this very special retrospective Martin Parkinson looks back on his four famous interviews with Muhammad Ali over the boxer's career. By the time of Parkinson's first interview with him, Ali was already a world famous boxer but in many ways Parkinson helped Ali become a household name. The interviews combine to provide an insight into Ali's idiosyncratic personality, social and political views and iconic sense of humour which won him adoration the world over. This is a heart-warming celebration and tribute to the larger-than-life Muhammad Ali. Watch it now.
The Trials of Muhammad Ali
Contributed to the ClickView Exchange by Melanie S, St Ursula College
The trials of Muhammad Ali is a documentary about the life and times of the boxer's career, putting particular focus on Ali's conversion to Islam and refusal to enlist to fight in the Vietnam war despite being drafted. This documentary provides an excellent insight into some of the definitive events of Muhammad Ali's life, from civil rights to war, his reactions to them and his reasoning behind these reactions. Watch it now.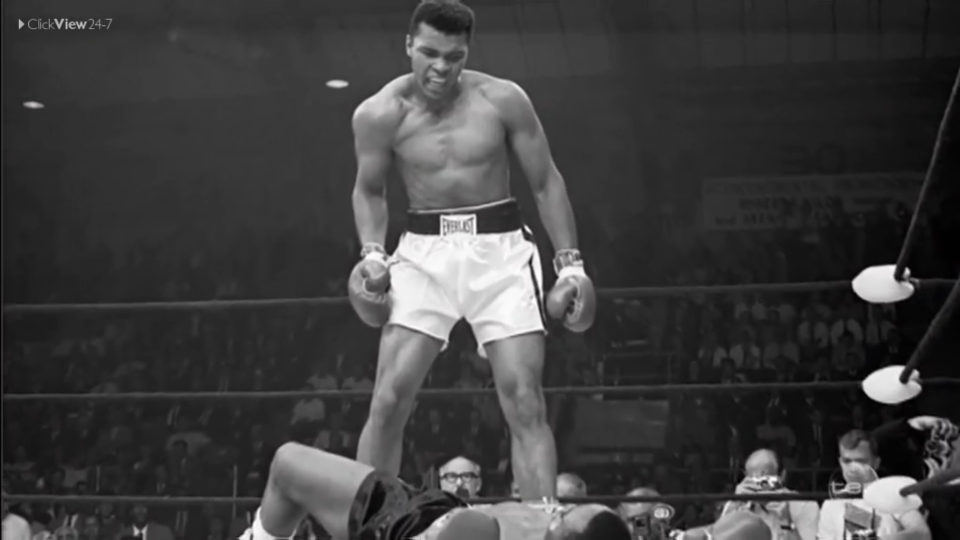 Becoming Muhammad Ali
Contributed to the ClickView Exchange by Ben D, Marist-Sion College
Combining rare archival footage and interviews with many of those closest to Ali, including his trainer and fight doctor, this program presents a story of Ali's evolution. The program traces Ali's career from 1960 when a young boxer named Cassius Clay emerged intent on the world heavyweight championship to his transformation into Muhammad Ali and, in turn, a legend.  Watch it now.
Muhammad Ali: When We Were Kings
Contributed to the ClickView Exchange by Margaret Y, Casimir Catholic College
This Oscar-winning film provides a thrilling look at the lead up to Ali's world-famous fight with George Foreman. Now hailed as one of the greatest sporting documentaries ever made, Muhammad Ali: When We Were Kings, is credited with immortalising Ali's personality, dedication and impact as it follows the boxer in his preparation for the gruelling eight round "Rumble in the Jungle" bout in 1978. This film, perhaps more than any other, provides an unparalleled insight into the nature of Ali's character. Watch it now.
If you have any suggestions for programs currently on free-to-air television that you feel would make a great resource for teachers and students feel free to contact: rupert.denton@clickview.com.au