Secondary Catalogue
The Future Ancients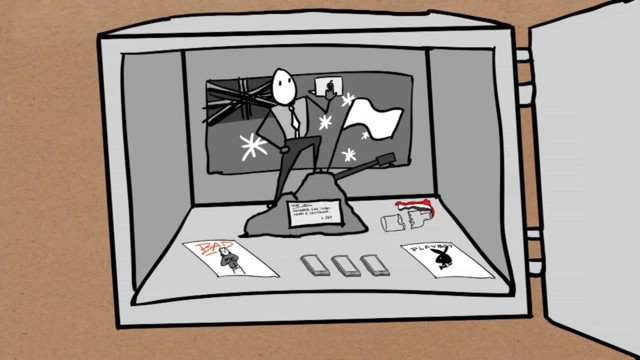 'The Future Ancients', written and produced by Luka Lesson. In the future the history books will study us our cities will have been renamed our languages slanged into something new and this moment will one day be ancient The future ancients dig theoretical trenches between settlement and invasion shoot rifles at each other across the plains and place prayers within the screaming bullets they shroud their heads in mourning and afterwards line their soldiers up in cemeteries like voodoo dolls for God The future ancients will be encased behind glass in museums Greek ragtag squadrons with backpacks and shards of Athenian columns for weapons will be installed in exhibitions of either terrorists or freedom fighters depending on who it is that wins this time they will stand side by side with wax dummies of 'good men' in shirts and ties who never leave their suburban blocks but are called to duty through computer screens shooting unmanned cannons in far away places and are called things like husband son sweetheart and Lieutenant The future ancients will have their artefacts locked in storage shards of Molotov cocktails from the Egyptian revolution will be tagged and filed next to Michael Jackson albums smartphones Playboy magazines and the Australian Flag The future ancients will be found by future archaeologists preserved and embalmed in tequila and Chanel Number 5 alongside pop-star prophets who thought they were somehow saying something new this time they will find them praying to gods who believe in Science on a planet of do's and don'ts of factions and fractions of us's and them's and we's and whatever's and maybe never's and never again's the future ancients will be found in thombs of cheap liquor in databases of tradition on screens called culture as relics of broken signals They will hardly be visited as bones but remembered in the symbology of pixel and paranoia The Future Ancients will be remembered or lost depending on what we decide Since democracy has been paraphrased sustainability called primitive refugees criminalised by the first invaders and Indigenous cultures lined up side by suicide in prisons like voodoo dolls for the future the textbooks will study us our cities will have been renamed our languages slanged into something new and our stories will be the only link left between objects and their meanings They will try to twist and turn our histories based on what they find of us so our voices are the only aretfacts worth keeping alive So whose lips will we honour? on whose tomb will we lay our tears? those that risked everything to spreak but spoke anyway those that gave meaning in the darkness those who not only spoke but gifted us a moment of silence in this madness to so that we could lear to jear ourselves Those thoughts are your artefacts your jewellery jade and bronze and your words are your monuments your stone and bone Parthenon and Colosseum everything worth leaving behind In silence is how we surrender speech is the architecture of fate So are we pharaohs of fallacies empresses of nothing? What will they engrave below our statues? In the ancient future.
---
Related Videos
Want to learn more about ClickView?
We would be more than happy to come to your school and show you how your teachers and students can benefit from ClickView.
Try ClickView for Free
---