Support staff and student wellbeing
A free collection of wellbeing resources for all levels
During challenging times, it's normal to feel more stressed or concerned about things than usual. We'd love to help you prioritise your wellbeing, and that of your students as you return to face-to-face learning. These resources will help give you the tools you need to focus on wellbeing. That's why we're sharing this special collection of resources during this time of transition, to help give you the tools you need to focus on wellbeing. Share them with colleagues, peers and students to support those around you.
Browse videos
State of Disruption: Resilience
4 videos | Secondary
Data tells us that the world is becoming a more stressful place. While stressful situations are inevitable, whether personal or global, building resilience helps us through them. This program is both enlightening and compelling viewing in Health and Personal Development contexts, as well as in Science classrooms.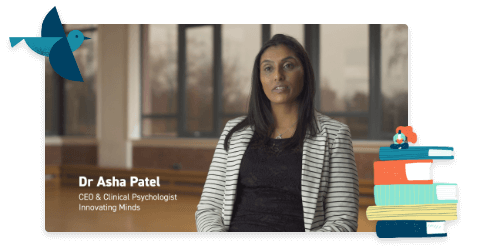 How to deliver student wellbeing lessons
Watch the free webinar on ClickView
Learn how to use ClickView to help support your school's vital wellbeing programs. This webinar was hosted by Dr Asha Patel, Clinical Psychologist, CEO and Founder of Innovating Minds, and consultant on ClickView's Understanding Anxiety video series.
View Webinar Recording
Miniclips: Wellbeing
6 videos | Primary
Wellbeing is fundamental for a happy and healthy life. This series explores six key areas of children's wellbeing – resilience, confidence, healthy habits, identity and values, motivation, and relationships. By following a group of diverse animated characters, children learn the importance of wellbeing and tips to help them achieve it.
Miniclips: Meditation
4 videos | Primary
Many recent studies have suggested that mindfulness and meditation can have a wide range of positive effects for adults and children, including improved sleep, decreased stress levels, improved attention skills, decreased pain, depression, and anxiety. This series includes four beautifully animated videos that introduce young learners to mindfulness, spark their imagination and guide them through the practice of meditation.
Understanding Anxiety
3 videos | Primary & Secondary
Anxiety can affect us all. It can feel like you have too many balls in the air, like you're struggling to keep life in balance, or like failure is just one wrong move away. In this three-part series, students will be introduced to the concept of anxiety through the visual metaphor of circus performers who, through mastering their juggling and balancing acts, help viewers to recognise strategies to manage and master their feelings.
Understanding Anxiety: A Teacher's Guide
6 videos | Primary & Secondary
Experienced psychologists provide clear explanations about varying forms of anxiety in this six-part series. It's important viewing for teachers and those in wellbeing roles to recognise anxiety in students, understand its possible causes, and easily implement strategies to manage different types of anxiety.
Social Media Me
6 videos | Secondary
With two seasons of three episodes each, this series follows three characters' experiences with identity and self-esteem, as they navigate social media and real world relationships. It encourages young people to think critically about their online interactions and experiences and manage their social media use in a positive way.