NSW K-2 English and Maths Syllabus Rubric
Download now to prepare for the NSW curriculum changes
Are you looking for resources to support the rollout of the new curriculum? Great news, help is just a download away. From the 1000's of curriculum-aligned ClickView videos, our expert team has created a ready-to-use rubric that outlines the changes to the syllabus, along with a curated pack of resources available on ClickView.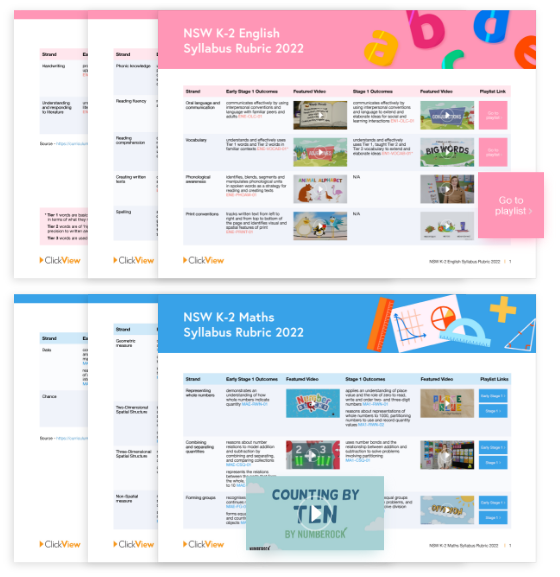 ClickView's resource rubric showcases high quality video content that aligns with each stage of the syllabuses. You can utilise this rubric to:
Ease the burden of collating resources aligned to the syllabus
Understand the key learning outcomes of the curriculum
Facilitate professional development to upskill teaching staff
With a ClickView subscription, access links to video content available on ClickView
Don't have ClickView?
Already vetted, teachers can use ClickView content with confidence knowing that the material is up to date and safe for the classroom. If you would like access to these resources connect with our team and discover how ClickView can support your school.
Get started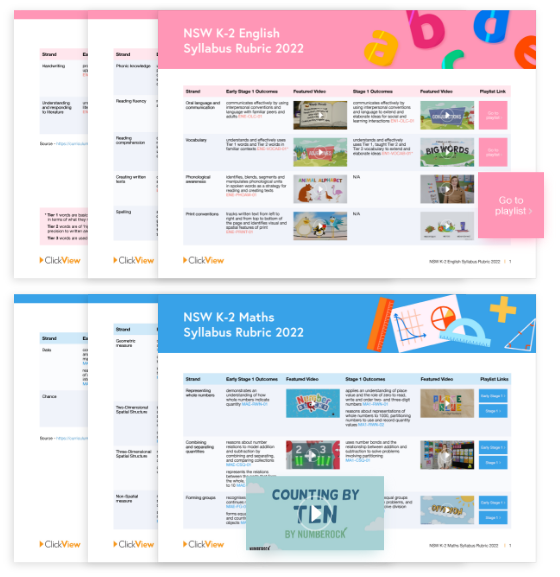 Download now to prepare for the NSW curriculum changes
Ready to download now, the free resource rubric for the new NSW K-2 English and Mathematics syllabuses is testament to ClickView's continuing support of schools in the roll out of further NSW curriculum changes in 2024.
Fill form to download a free rubric
---