History resources for
secondary schools
Hundreds of curriculum-aligned videos
Inspire a love of History in the contemporary secondary classroom.Use the power of high-quality video content to bring historical events like the Black Death or the Holocaust to life for your students. From war and revolution to crime and punishment, ClickView has you covered with an extensive video library of secondary History resources.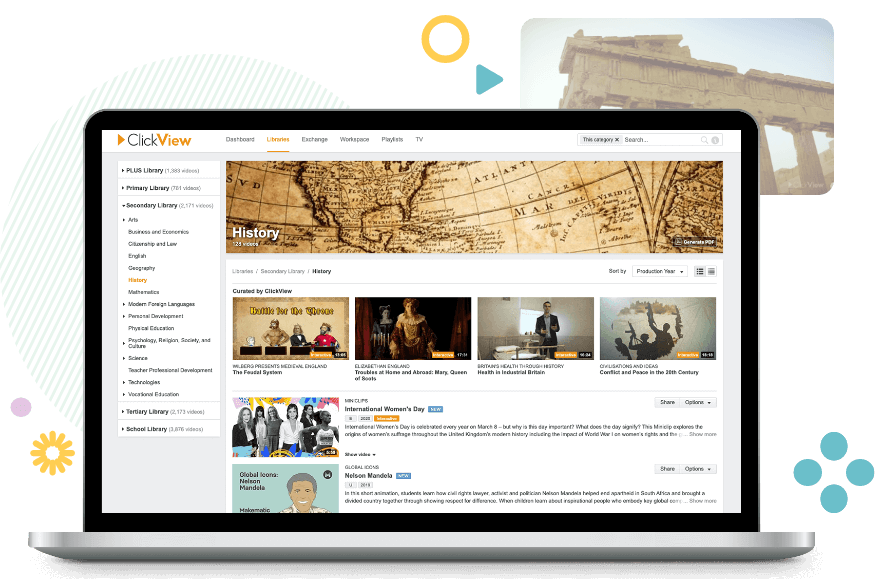 Free secondary History videos and teaching resources
A sample of our extensive video collection
Dynamic video content can make the world of difference to engagement and subject understanding in the classroom. Learn more about how your History department could use ClickView to make a significant difference to educational outcomes. For a limited time, you can watch a selection of popular History videos for free. You will also find lesson plans, classroom activities and downloadable worksheets to help you with your planning.

For access to every ClickView video and the full suite of bonus supporting educational resources, request your free trial.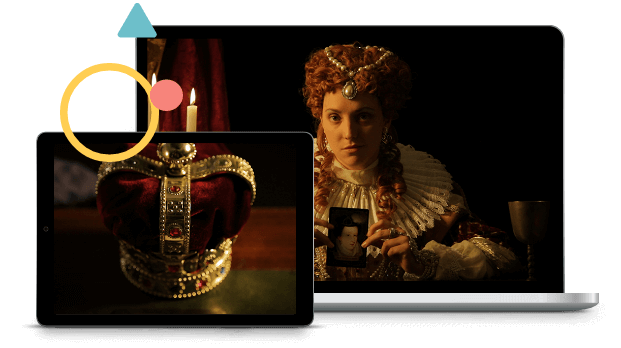 Browse the entire History video collection on ClickView
Did you know ClickView has hundreds of curriculum-aligned History videos? Find the most relevant video to include in your lesson plans.
See full list of History videos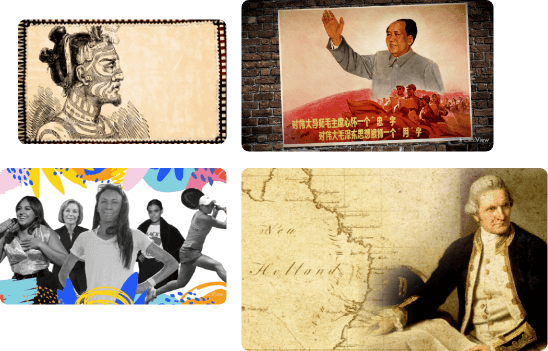 Free History videos sent to your inbox
Loved the History videos? Good news, we send free video and teaching resources throughout the year! Click below to find out more.
Send me free videos
Access current, high-quality curriculum-aligned History resources
With a ClickView subscription, each video has been mapped to the curriculum in consultation with subject experts and comes with bonus teaching resources. You can download the accompanying secondary History resource pack for any video in our library. Save time and teach your lessons with confidence, knowing that all classroom activities, worksheets and lesson plans have been designed with the Australian Curriculum in mind. Created with advice from subject experts, History teaching resources include quizzes, timelines, people profiles and more. Benefits
Make important connections
Studying History can encourage an interest in the past and help students make important connections to their lives today. Use carefully curated videos in your classes to engage contemporary learners and explore concepts such as change and perspective.
Created with History experts
All History classroom activities, worksheets and lesson plans have been created in collaboration with our educational consultants. They have been carefully mapped to the Australian Curriculum, ready to use in your classroom.
Student ownership of learning
Encourage student ownership of learning as you transform video watching in the History classroom into an active experience. Check in with your students as you navigate a topic, from ancient civilisations to World War 1, encouraging them to reflect on and take responsibility for their learning.
Teaching strategies
ClickView can support you with resources to help you implement metacognitive strategies and other teaching strategies into your secondary History classroom. Explore content on the topic of critical thinking to encourage skill development. Discussion-based activities in teacher resources also promote active inquiry in students.