Teaching methods & strategies
Explore our specific teaching strategies resources for an in-depth look at how you can incorporate new ideas into your classes or lectures. As well as a summary of each strategy, you'll find innovative ways to incorporate ClickView into the teaching and learning for your particular class.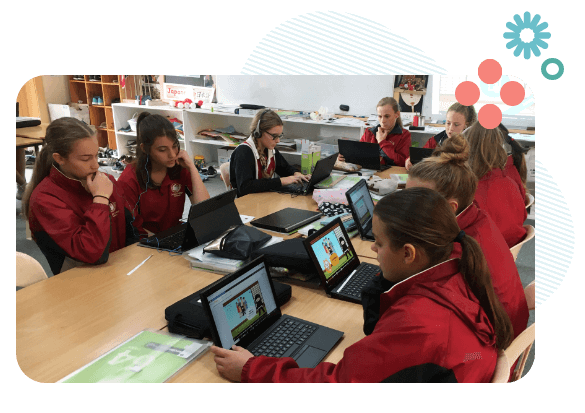 Why use a variety of teaching strategies with your students?
Effective teachers understand that innovative teaching strategies are key for significant learning and growth in the classroom. It's part of creating a positive classroom culture, where students feel connected with you, each other and the content. Using a range of teaching strategies provides a space for students to grow and take calculated risks.
10 effective classroom teaching strategies to enhance learning
ClickView can complement and support your teaching and learning strategies in many different ways. Browse the following pages to learn more about each particular strategy.
Setting goals

Every ClickView video lesson has a clearly defined learning intention to help you and your students with SMART goal setting.

Structuring lessons

ClickView videos are accompanied by teaching resource packs to provide content ideas and guide you with lesson structure.

Explicit teaching

Record direct instruction using the ClickView app to model a particular learning outcome for your students.

Worked examples

Create playlists of video content to facilitate a step-by-step learning experience for your students.

Collaborative learning

ClickView lesson plans encourage a range of collaborative learning activities and group work opportunities.

Multiple exposures

Your students can access ClickView's curriculum-aligned content anywhere, any time on any device to aid mastery of learning.

Questioning

Adding an interactive video question layer transforms the learning experience from passive to active instantly.

Feedback

Formatively assess your students with interactive videos and receive instant feedback to inform your planning and teaching.

Metacognitive strategies

ClickView's content on study skills and critical thinking encourages skill development in all areas of learning.

Differentiated teaching

Create personalised playlists and scaffolded interactives for different learning styles and needs within your class.
Download HITS poster
Downloadable teaching resources for lessons or lectures
We're here to streamline and enhance your teaching practice. Our downloadable resources can help prompt you and your students in the classroom or lecture theatre. Access plenty of ideas about how you can incorporate ClickView within your repertoire of teaching and learning strategies.
Need more advice? Get in touch with your ClickView advisor, attend a webinar or check out the dedicated ClickView training channel.
Explore training resources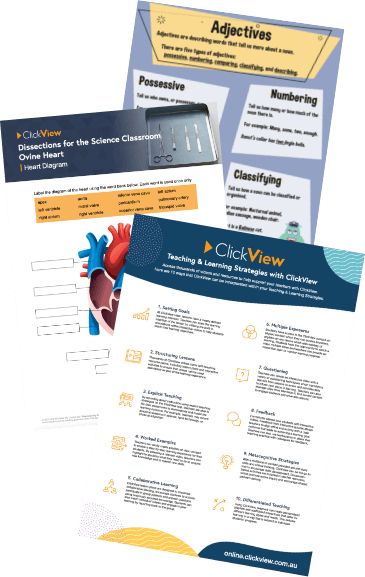 "The value and services being provided by ClickView include exceptional professional learning tailored to our learning and teaching frameworks and curriculum."
Karen Dermody, Digital Learning Services Manager
Department of Education and Training, Victoria