Collaborative learning
Collaborative learning takes place when students work in small groups with everyone participating in a learning task. Within this framework, there are many approaches that use different kinds of tasks and organisation. At its core, collaborative learning relies on the creation of meaningful tasks and inviting group responses.
Key features of collaborative learning
Collaborative learning enriches the classroom or tutorial environment for students. It begins with meaningful tasks that involve students participating in negotiating roles, responsibilities and outcomes. Collaborative learning is different from delegated group work. It actively encourages learning and focusing together, rather than delegating parts of a task.
Group selection is a vital consideration, one that you will need to vary depending on many factors:
The purpose of the activity
Individual learning goals
Friendships and working relationships
Facilitating the building of new relationships
Delegation of particular skills and strengths
Group learning activities are specially designed so that student collaboration is essential to effectively accomplish the task, sharing roles, responsibilities and the ownership of outcomes.
Benefits of effective collaboration
Kids learn best in a social environment
Subject or topic information can be more effective when it comes from peers. Collaborative learning encourages this social aspect of education and enhances student understanding. The group nature of collaborative learning also promotes interactions. Students are organised in flexible groupings, either at random or by the teacher to reflect mixed academic ability or shared interests, for instance.
Educators can share workload and ideas
By collaborating on and building a shared playlist of videos, for example, educators share inspiration to develop high-quality resources for their classes.
Collaboration ideas for your class
Watching a video and completing interactives together are just one way your students can collaborate using ClickView's interactive video feature.
Learn more about interactive videos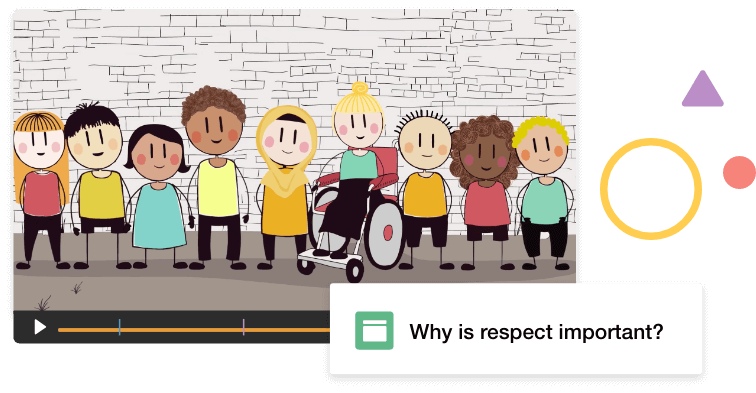 Six ways ClickView can help with cooperative and collaborative learning
Group discussion

Students can watch a video together, sharing discussion and conversation. This activity is beneficial in the primary classroom.

Group videos

Groups can create a video for an assignment by using the app to record. You can then mark or cross-mark, annotating the video and sharing feedback with all involved.

Lesson starters

Existing video clips can be used as a framework when designing group collaboration or as a group lesson starter in your classroom.

Group tasks

Teacher packs and lesson plans in ClickView have resources designed specifically for group engagement and collaborative learning.

Building playlists

You can build playlists together for specific topics, subjects or units of work.

Giving feedback

Your students can use ClickView to record self or peer feedback on a task, in the form of a vlog.